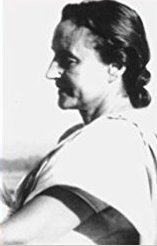 Lizelle Reymond (June 30 1899–June 24 1994) was a philosopher and orientalist.
Her passion for India and Indian culture arose from a brief meeting with the Indian poet, Sarojini Naidu, in New York.
She came to India in 1947 and worked with Ramakrishna Mission, where she helped Hindu refugees flocking to Calcutta following India's partition. She also met Shri Anirvan, philosopher of the Samkhya tradition, in India, who later became her spiritual guide.
She introduced the Chinese martial art Tai Chi Chuan in Europe and the US in the 1970s.
Some of her other works include The Game of Freedom – Five Stories of Animals (1947), Shakti or spiritual experience (1951), Life in Life: Practice of Samkhya Philosophy Based on the Teaching of Shri Anirvan (1984).